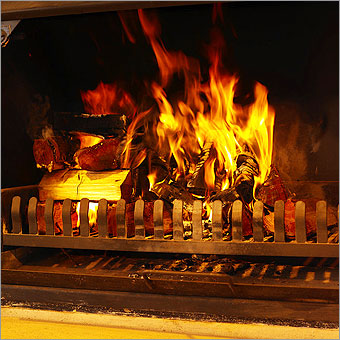 We both don't smoke. The majority of our friends don't smoke and, if they do, they usually go out on the balcony.
So what am I talking about?
The apartment has a fireplace, which my fiancé used as a selling point to move here. Even our landlords downstairs told me they wished THEY had a fireplace like ours. I didn't like this house and was skeptical of all the enthusiasm.
For starters, the fireplace is painted orange. But the kicker is the flue doesn't close; it's not even an option because there isn't one. As a result, there's a light but steady breeze blowing through the living room most days; on windy days, it's worse. My observations were duly noted, but ignored.
My fiancé was convinced it would be warmer and more economical than petrol if we burned some wood so, after stating my objection to burning trees, I humored him and watched him start a fire. For a man who last built a fire in the army more than a decade ago, I was impressed with his flair for fotia. But kudos quickly turned to complaint as the house filled with smoke and sent me gasping for air. The smoke wasn't going up the chimney, the wind was blowing it back into the house!
I ran through the house to close off the bedroom doors, kitchen and bathroom, while my fiancé hoped the smoke would dissipate and leave us in cozy comfort. I could see the look of determination on his face…or was it stubborn pride? Pleas to put out the fire were (you guessed it) duly noted, but ignored. It was going to be warm, dammit!
After three hours of futility in which I sat silent, we were no warmer, although the smell of burnt wood lasted a good four or five days during which I froze my a$$ off to air out the house, then washed every linen and shred of clothing.
The fireplace is now sealed off and retired, but if I ever want to feel like a smoked salmon again, at least I know I have that option. 😉
Related posts
"One apartment, hold the mold"
"Cockroaches and courthouses, landlords and leases"
"Facing the cold with fire" — DW
Photo from CNN.net
——-
* If RB is reading this post, may I coax you to tell your fireplace story? Cheryl also has a post called, "Asphyxiation by fireplace"; everyone can find her on my Blog Worship list.