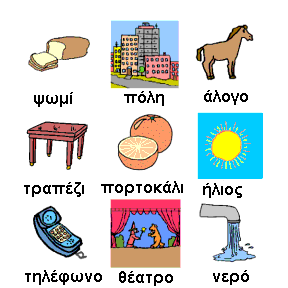 Free Greek language lessons or μαθήματα ελληνικών are offered around Greece by the Ministry of Education and Culture's ODYSSEAS program, in addition to Greek history/culture lessons.
EU and non-EU citizens must be legally resident in Greece and at least 16 years of age to enroll.
After successful completion of 100-150 hours of Greek-language instruction and 25 hours of history/culture lessons, and passing a written and oral examination, students are issued a certificate. Residents and professionals can use this as proof of proficiency, and non-EU citizens need the certificate as one element to apply for a long-term EU-wide residence/work permit and Greek citizenship.
ODYSSEAS classes are the only ones recognized by the government, though applicants who paid for lessons elsewhere or already have sufficient knowledge of Greek can potentially skip A1 (Introductory) and/or get an A2 certificate by passing an exam.
Classes are ongoing but typically held in the morning and afternoon, so anyone with children or a full-time job may have a difficult time finding evening classes.
EU citizens need only their passport or national ID, while non-EU citizens must also show a valid residence/work permit and a letter from their employer certified by Greek police. Municipalities ask all attendees to bring photocopies of aforementioned docs (as applicable) and fill out an application in Greek (sample) or English (sample).
The yearly total enrollment limit — not for each class, not for each location, but for the whole country — is only 3,000 students, so don't be surprised if there is a waiting list.
*Article last updated June 1, 2013. Full update in progress.
IDEKE and KEE

Greek classes were formerly under the jurisdiction of IDEKE and KEE, the Ministry of Education's Institute for Lifelong Education and Adult Education Program, until June 2011. Law 3879/2012 transformed them into Centers for Lifelong Learning (KDVM), and the official website INEDIVM finally went live in November 2012.
In addition to the 17-month void of information, the IDEKE list had not been updated since 2010.
If you completed Greek classes/exams under the former administration (IDEKE or KEE) and need a certificate, please call +30 (213) 1311 551.
Where to register for courses
Many prefectures make a general announcement for all municipalities in the region that KEP is the point of contact for information and registration. No specific addresses or phone numbers are provided.
The place you sign up is often different from the location of classes.
*All cities in bold were confirmed in June 2013.
Main Office
Acharnon 417 & Kokkinaki
11143 Αthens
Tel: (213) 1311 592 or (210) 1311 580
Fax: (213) 1311 551
Email: odysseas@ein.gr
In Athens
Ag. Anargyroi-Kamatero
Leof. Dimokratias & I. Merla
2nd floor
Tel: (213) 203 9921 or 6980345508 
via Dimos Ag. Anargyroi
Ag. Dimitrios
KEP
G. Psychogiou 8
Tel: 6945 295165 or 6937 262 235
via LocalIt
Aigaleo
Mayor's office
Iera Odos 364 & Kalvou
3rd floor
Tel: 6980345508
or
KEP Aigaleo
Ellipspontos & Markou Botsari
via Dimos Aigaleo
Argyroupoli-Elliniko
Kyprou 68
Argyroupoli
Tel: 6945295165
via Dimos Ellinikou
Filothei-Psychiko
Mayor's office
Vekireli 11
1st floor
Filothei
Tel: (210) 683 4550 or 6999670645
Email: info.odysseas@gmail.com
via Dimos Filothei–Psychikou

Halandri
Rizareios Ecclesiastic School
Rizari 1
Tel: (210) 682-3964
Email: kee-hal@otenet.gr
Ilioupoli
Vouliagmenis 521
5th Gymnasium, 3rd floor
Tel/Fax: (210) 996-0905
Email: keeili@otenet.gr
Kato Patissia
Dagkli 53
Tel: (210) 854-0566
Fax: (210) 854-1078
Email: kee.ath@ideke.edu.gr
Keratsini – Drapetsona
El. Venizelou 200 & Mikras Asias
Tel: (213) 207 4741
via Keratsini Voice
Korydallos
Grig. Lampraki 233
4th floor
Tel: (210) 499 0456
via IntheCity
Metamorfosi
Tel: 6999670645 and 6974303768
via Dimos Metamorfosi

Nea Smyrni
El Venizelou 18 — 3rd Floor
Tel: (213) 202 5840
via Dimos Nea Smyrni
Neo Iraklio
KEP
Karagiorgi Servias 2 & Antypa Marinou
Tel: (213) 2000 150 or 699 9670645
Email: info.odysseas@gmail.com
via Localit.gr
Paiania
Ioannou Metaxa 1
Tel/Fax: (210) 666-4788
Email: mail@keen-anatol.att.sch.gr
Pefki-Lykovrisi
Office of Employment & Entrepreneurship
Rimini 10
1st floor
Lykovrisi
Tel: (210) 285 2945 or 6999670645
Email: ergasia.lykovrissi.pefki@gmail.com or info.odysseas@gmail.com
Piraeus
Akti Poseidonos & Dimosthenous 2 (Pyrgos)
Tel: (213) 202 4715 or 6937986207
via Dimos Piraeus

Elsewhere on the Mainland
Agrinio
Favrou 3/Deligiorgi 27
Tel: (26410) 64912
Fax: (26410) 64915
Email: mail@keen-thest.ait.sch.gr or mail@keen-mesol.ait.sch.gr
Amfissa
Flouriou 47
Tel: (22650) 29308
Email: amfisa4@otenet.gr
Argos
Tsokri 63
Tel: (27510) 69131
Email: kee-arg@otenet.gr
Arta
Street of the Perifereia & Fleming
Tel/Fax: (26810) 21453
Email: keeartas@otenet.gr
Drama
Prefecture building
1st Iouliou & Chrysovergi Corner
Tel/Fax: (25210) 58313
Email: keedra@otenet.gr
Edessa
Nees Ergatikes Katoikies – Stop 'Smareka'
Tel: (23810) 28842 or (23810) 29536
Email: mail@keen-pellas.pel.sch.gr
Evros
Tel: 6983450152
Email: atsapou@yahoo.gr
via E-Evros

Florina
Megalou Alexandrou 111
Tel: (23850) 25133
Email: mail@keen.flo.sch.gr, keeflor@yahoo.gr
Grevena
End of K. Taliadouri Street
Prefecture Bldg
Tel/Fax: (24620) 76520
Email: mail@keen.gre.sch.gr
Ioannina
Konstantinoupoleos 1
Tel/Fax: (26510) 65905
Email: keeioa@otenet.gr
Kalamata
Messinias
Old Dimotiko School – Antikalamos
Tel/Fax: (27210) 94236
Email: mail@keen-kalam.mes.sch.gr.
Karditsa
Ypsilantou 7
Tel/Fax: (24410) 77614
Email: kee-kar@otenet.gr
Karpenisi
Next to OAED
Ksirias
Tel/Fax: (22370) 80894
Email: mail@keen.eyr.sch.gr
Kastoria
Megalou Alexandrou 11
Tel: (24670) 22216
Fax: (24670) 22020
Email: keenkas@otenet.gr
Katerini
Andrianoupoleos 14
Tel/Fax: (23510) 25605 or 6978532421
Email: odysseaskaterini@gmail.com
Kavala
Prefecture Bldg.
Eth. Antistaseos 20
Office 532 – 5th floor
Tel: (25102) 32481
Email: keekav@otenet.gr
Komotini
Hatzikonstanti – Zoidou 6
Rodopi
Tel: (25310) 81809
Fax: (25310) 81599
Email: keekomo@otenet.gr
Korinthos (Corinth)
Anno Assos
Taxiarhon Street
Tel: (27410) 89427
Email: mail@keen-korinth.kor.sch.gr
Lamia
Leof. Kalyvion 154
Tel/Fax: (22310) 31163
Email: keelam@otenet.gr
Larissa
Aiolou 2
Tel/Fax: (2410) 555247
Email: mail@keen.lar.sch.gr
Marousi
Department Allodapon
Ag. Orous 16
Tel: (213) 203 8052 or (210) 203 8073
via Voreini

Megara
Mouseiou 1 – Ground floor
Tel: (22960) 81018
Fax: (22960) 81019
Email: keedytat@otenet.gr
Naoussa
Tel: 6978183519
Nea Selefkeia
Tel: (26650) 29024
Email: keethesp@otenet.gr
Οrchomenos
Registration: KEP Voeotia
Lessons: Minyou 3
Tel: (22610) 35122 or 6942221689
via Orchomenos Press

Orestiada
Evros
Evripidou & Markou Botsari
Tel: (25520) 22224
Fax: (25520) 28994
Email: kee-evr@sch.gr
Patra
Pontou & Kalavryton Streets
Tel: (2610) 317236
Email: kee_ach@otenet.gr
Polygyros (Halkidiki)
K. Papageorgaki 1
Tel/Fax: (23710) 21772
Email: keehalk@otenet.gr
Polykastro (Kilkis)
Megalou Alexandrou & Αsklipiou
Tel: (23430) 23556
Email: keekil@otenet.gr
Preveza
Kolokotroni Street – 2nd Eniaio Lykeio
Area of the Hospital
Tel: (26820) 89449
Email: keepre@otenet.gr
Ptolemaida – Kozani
Registration: Office of Culture & Education, Office 13, 1st floor,
Lessons: 1st km. Ptolemaida-Galateia Hwy – Bulgaria Bldg
Tel/Fax: 6979422211 or 6946091726
via Kozan Press

Pyrgos
Petropoulou and Patron Streets – Floor 'A'
New City Hall
Tel/Fax: (26210) 36001
Email: keeil@otenet.gr
Serres
Dytikis Thrakis 11  & Avdiron
Tel: (23210) 97520
Tel: (23210) 97524
Email: kekser@otenet.gr
Sparti
Lakonia
3rd km. Sparti – Prefecture Office 11
Tel/Fax: (27310) 25475
Email: mail@keen-lak.lak.sch.gr
Thessaloniki
Ethnikis Amynis 8
Tel/Fax: (2310) 219939
Email: keenthe@sch.gr
Thessaloniki (Polichni)
Chr. Smyrnis 20 (Corner of Αg. Panteleimonos)
Tel/Fax: (2310) 587004
Email: keepol@otenet.gr
Trikala
Kalampakas 28 (Green corner)
Tel/Fax: 24310-27790
Email: mail@keen-trikal.tri.sch.gr, keetrik@otenet.gr
Tripoli
Metamorfoseos & Aleou (Ierou Naou)
Tel: (2710) 232524
via Arkadia Press
Veria
Stadiou 51
Tel: (23310) 75330 or 6978183519
Fax: (23310) 75331
via 24Imathia

Volos
Cheironos & Anapavseos Streets
Magnesia
Tel: (24210) 24167
Email: keemagv@otenet.gr
Xanthi
Plateia Emporiou 44
Tel/Fax: (25410) 83143
Email: keexan@otenet.gr
On the islands:
Chios
Registration: Damala 25
Lessons at: Michali Livanou 25
Tel: (22710) 42466
Email: mkaravali@gmail.com
via Chios Press
Corfu (Kerkyra)
Alykes River
Prefecture building
Tel: (26610) 23345
Fax: (26610) 23315
Email: keekerk@otenet.gr
Crete
Ag. Nikolaos
Ksirokampos – 2nd Gymnasium
Tel: (28410) 25719
Email: keelas@otenet.gr
Crete – Hania
KEP Palaioxoras (28230) 41751
KEP Kantanou (28233) 40210
KEP Anatolikou Selinou (28233) 40102
via Dimos Kantanou-Selinou
Crete – Irakleio
Elefthernis & Syvritou 2
Kaminia
Tel: (2810) 831145
via Dimos Irakleiou
Crete
Nea Alikarnassos
Dionysiou 13A
Tel: (28102) 44500
Email: keeirakl@otenet.gr
Crete
Rethymno
Pl. Pigis – Arkadi
Tel/Fax: (28310) 71454
Email: kee-reth@otenet.gr
Evia
Halkis
Karagiannis 2 & Antigonou/Vourkos
Tel: 6977064213

Kefallonia
Argostoli
Pl. Vallianou 9
Prefecture Office – Ground floor
Tel: (26710) 25402
Fax: (26710) 29075
Email: mail@keen.kef.sch.gr
Lefkada
Kapodistriou 11 (TEI)
Lefkas
Tel: (26450) 23494
Email: keelefk@otenet.gr
Lesvos
Mytilini
Registration: Pittakou 44
Lessons: Vournazon 2, 2nd floor
Tel: (22510) 37401 or 6942293382
via Dimokratis

Rhodes
An. Damaskou 102
Tel/Fax: (22410) 31727
Email: keerodos@otenet.gr
Samos
Vathi
Patriarch Damianou near the 1st & 2nd Kindergarten
Tel/Fax: (22730) 27776
Email: keesamou@otenet.gr
Syros
Ermoupoli
D. Vafeiadaki 2
Tel: (22810) 89224
Fax: (22810) 89225
Email: keekykl@otenet.gr
Zakynthos
Dionysiou Roma
Xenia – Floor A #48
Tel/Fax: (26950) 25600 or 6980423548
via Dimos Zakynthos

Where and when examinations are given

Greek language, culture and history examinations are announced in Greek at the General Secretariat for Lifelong Learning and given to non-EU citizens at select locations.
Candidates must register in advance, be at least 16 years of age, hold a valid Greek residence permit sticker/card and pay a fee. It's 25 euros for only the Greek history/culture portion or 60 euros for the combined Greek language, history and culture exam.
Online registration at Ellino Matheia may only be completed in person from an SDE center location.
The exam is supposed to be administered every year in October and April but in reality has been offered four times in October 2008, March 2009, July 2010 and April 2013. Only 2,643 non-EU citizens have acquired the A2 certificate.
Test & Study Materials
All are in Greek (of course).
Study materials:
Test materials:
I do not have a copy of the current test, and there are different versions and variations.
What's on the final test?
There are three sections and five parts.
Section 1
Knowledge of Greek history and culture
— Answer questions about basic historical events and culture
Section 2
Part I: Reading comprehension
— Demonstrate the ability to comprehend simple texts from everyday life, such as announcements, instructions and directions
— Match a photograph or illustration with the appropriate written description
Part II: Aural Language
— Listen to recorded dialogue and match answers to pictures
Part III: Basic Writing Skills
— Write short paragraphs
— Fill in a mock application form with personal details
— Write a complaint
— Describe a daily event
Section 3

Active dialogue/conversation with a proctor consisting of questions about work/studies, describing a person or objects familiar to the applicant.
Passing the Exam
To pass, the candidate must score at least 50 percent on four of five parts of the exam.
He/she must earn 10 points on the Greek history and culture section, which has a weighted score of 20. In plain terms, it is mandatory that this be one of four parts scoring 50 percent or more. Otherwise you fail.
Results are posted within 30 days, and everyone who passed can collect certificates from the exam location with a valid form of of ID.
Plagiarism

This article was plagiarized word for word without my permission by a Greek newspaper, educational institution in Crete and the Greek Consulate of Sydney, after I published it in May 2007.
The Ministry of Foreign Affairs and Athens Journalist Union (ESIEA) would not intervene or mediate. The Greek consulate removed it after four letters and 18 months, the educational institution gave excuses before revising their reports, and the Greek newspaper never acknowledged what occurred. No one apologized or took responsibility.
Since then, it has also been plagiarized by a number of websites and forums about Greece. Owners refuse to remove the material, despite admitting it was copy/pasted without permission.
Be careful who you trust.
Sources
— ΦΕΚ 160/Α, law 150/2006
— ΦΕΚ 163, law 3879/2010, passed September 21, 2010
— IDEKE website Tel: (213) 1311526 or (210) 258 4803. Fax: (210) 253 0349 or (210) 2284433. Email: kee@gsae.edu.gr or ideke@ideke.edu.gr
— "Εξετάσεις για την πιστοποίηση της Ελληνικής γλώσσας"
— My first-hand experience
— EU/non-EU foreigners who tried to or did enroll in classes
Related posts
"The importance of speaking Greek in Greece"
"Why don't you speak Greek fluently?"
"Conversations from my life as a foreigner in Greece"
The Author
Kat is a well-traveled American journalist and author. To learn more, see "About Me."
Livingingreece.gr

was created in 2007 to present meticulously researched original articles that fill a gap left by traditional media, government portals and commercial websites/forums run by people without credentials.

@LivinginGreece

is a Twitter feed curated from recognized Greek and international news agencies to provide breaking news about Greece, plus real-time updates and insider tips mined from 15 years experience.
Note: Please note my copyright policy and be aware that violations will be pursued.
http://www.greeklanguage.gr/
http://www.thesout.gr/daily-blog/world-news/dorean-mathimata-agglikon-gallikon-kai-istorias-parexei-o-dimos-thessalonikis-4424
http://www.gsae.edu.gr/images/ekthesi/SDE_kentra.pdf